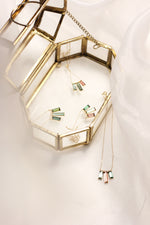 Hello!
Welcome to our blog, where, amongst other things, we speak to people we admire about – what else – jewellery. Their first jewellery memories, their piercings, the pieces that hold emotional value for them, pieces passed down, gifted jewels, and that rite of passage, first commissions.
Because as any jewellery lover will tell you, jewellery has nothing to do with material. Jewellery is about memory and feeling. 
And the most magical repository for of all them feels for me, growing up, was always, my jewellery box. My favourite way to add to that magic was going through other people's jewellery boxes – non grow-ups preferably, amenable to jewellery swaps. Which brings us to our series, In the Box, a peek at other people's treasured jewels, stories, and memories. 
Watch this space.