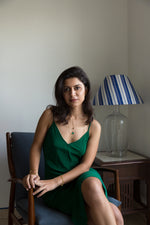 With Divrina Dhingra 
I can proudly tell you, that we lovingly describe Divrina's ears as 'prime real estate.' She has that many piercings, and we're honoured that The Line graces every single one. Amongst Divrina's many talents, she's a journalist, a competitive Masters-level swimmer, a nose-in-training, and currently writing her first book about traditional Indian aromatic plants and fragrances.  
Divrina and I first met when we both used to write for ELLE India, and one of my abiding memories is spending whole afternoons trying to find, say, the perfect lip stain. She approaches jewellery like that. "Let's make me a barbell" - Whim laced with dogged precision, perfected again and again and again, till we arrive at just right. We've done a lot of custom work before and since, and with her, it's equally exacting and exciting.
NK: Shall we start with your piercings; do you remember your first?
DD: My first piercing went quite badly wrong. I was old enough to remember it, I was in school. I wanted to get my ears pierced, but at the time we didn't know that I am very allergic to mixed metals and I get dermatitis. They did it with that gun and my ears got really sore and infected, so the earrings had to come right off. Same story next time. So, my first two sets of piercings were really disastrous and painful. 
And then my first actual piercing that lasted was, I think I was 12 or 13, and we were on holiday in London. I was in Selfridges, I explained to the lady that I've had these issues and she said 'Oh we have the nickel-free ones', though I didn't know whether it was nickel that was my problem or not. Anyway, she did it and then that was my first piercing.
NK: And then all the subsequent ones when did they come along?
DD: The second and third were many years later, I think. I waited till we went on holiday and then did both at the same time, again in Selfridges, because why mess with a good thing.  
And then the Industrial was when I was studying in New York. I'd gone with a classmate of mine – she was doing an interview for her assignment – to this tattoo and piercing parlour, and while she was doing her interview I just literally on a whim got this done.
The last one was the Tragus. I was on holiday with my best friend in San Diego. We were just bumming around; we'd surf in the morning and hang around all day. It was in this very small part of San Diego – Ocean Beach – just one street to go up and down on. So, we'd seen this place many times, and right towards the end of the holiday I said that's it, I'm going to do this. 
My nose I got pierced when I was in college at Delhi University. I just went to Kamla Nagar, there's one uncle who used to do it for everyone. But I spent a good week or so before that trying to figure out like what is the best spot on the nose to do it – not too far back or too far forward. So, we used to take silver foil and stick it on and then ask people what looks good. 
NK: Do you have any early jewellery memories?
DD: My mum always wore these two gold bangles, or a few gold bangles. I just remember always the sound of those bangles – when she would come home late or come wake us up in the morning. Both my sister and I obviously have the same memory because she and I both have this thing for thin gold bangles. I have a dozen of them and she has I think two dozen, and we both wear them regularly, just a few gold bangles. 
NK: Which of your pieces have been passed down to you?
DD: There are two bangles that were passed down that were left to me by my Dadi, they're etched gold – they fit in with my stack nicely and I do wear them. My Nani had left a ring with my mother, so for my sister's wedding we had that remade into a choker with these tiny diamonds in leaves. And she left me those really classic earrings that all our grandmother's had, with that big floral shape, a diamond in the center surrounded by diamonds.  
All the women in my family – my Nani who I never really knew, but my mother, even my Dadi – their thing has been very much just very small things, discreet jewellery. Gold. Maybe some diamonds. And so mine continues to be like that, as I really can't imagine a different kind. And neither do I find it attractive. 
NK: Any other special pieces?
DD: My Dad's watch. I count it as jewellery. It's a really beautiful vintage Patek Philippe, they don't make it anymore and it is gold. When he gave it to me, at first I was like it's too big for me. And I remember him saying to me; he's like listen, women wear men's watches and it looks cool, okay, that's the trend. And I was like oh yeah maybe he's onto something.
NK: And which pieces do you wear everyday? Do you change every day or is there something you wear constantly?
DD: The stuff that's on my ears is everyday, especially this last year. But everyday is just the second and third piercing and all the rest, not the main ones, there's usually nothing there. So there are 4 or 5 earrings that never come off, and my nosepin. My ears are all The Line, exclusive. 
The thing I'm most attached to are my bangles. In the winter I don't wear them, because sweaters. But in the summer, I always like to have some bangles on and so my stack keeps growing because that's the thing I wear most. There's one you made which is the yellow sapphire and that was actually my dad's ring from some astrologer fellow and then he got fed up and he wasn't wearing it. So I thought I can do something with this. And the same with that other bracelet you made for me with rubies and sapphires, the ruby was another ring of his from some astrologer. These are the things that I wear a lot. 
NK: What kind of jewellery are you attracted to?
DD: Generally it's discreet, its gold. I have no taste for white metal or for the more traditional Indian chunky silver. So discreet things that I don't feel on the body, that I don't have to be so aware of when it's on me. I don't like jewellery or anything, well clothes, shoes, whatever, as things that wear you. 
It's just everyday stuff that feels personal. But it still has and - you know this -  that I get really nitpicky about how it's made. Discreet doesn't mean that it doesn't show, there's a lot of value in how its crafted. 
Photography Kirti Virmani