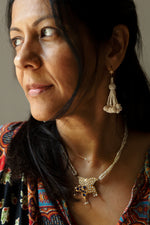 I first met Radhika at an art event, and we'd soon established that she already owned a few pieces of The Line. This was in the early days when I was too shy (scared?) of dealing with the sales aspect of running a business and mostly left the selling to our retailers. I was thrilled to come face-to-face with the kind of woman I was designing for, and Radhika embodied her just right with her quiet style and modern elegance. 
The admiration, it turned out, was mutual, as I too had already loved and bought teas and accessories from Radhika's then-newly-founded tea label, No. 3 Clive Road. Named after the address where her father was born, Clive Road was born out of her desire to create a thoughtful Indian product, beautifully packaged, that told a story. Radhika found her product as she realised she was buying all these beautiful tea tins – Mariage Frères, Fortnum & Mason, TWG – from all over the world to bring back to India, and the tea was sourced in India or China or Sri Lanka, at the most. More importantly, tea-drinking, an emotionally-wrought experience for most Indians, connected deeply to her own memories of her diasporic childhood, when tea was a reminder of home. 
This same emotional response defines her idea of preciousness, whether when she talks about jewellery or the art she's attracted to. Because preciousness is the flipside of loss, held dearly through her family's shared history of migration across undivided India, and then the States, and back to India. 
NK: What is your earliest memory of jewellery, like the first time you ever noticed or desired anything? 
RC: I mean, obviously you know as a teenager, that's sort of the first time that you experiment with jewellery and come into your own. And I watch my daughter as well, it hits when you turn 13 or 14, you start experimenting with gold chains and earrings. 
My first memory of jewellery is actually a locket, and it was around this time, I was 14 when my mother gave it to me. It belonged to my grandmother, from my father's side. She gave it to my father when he left home, and then my mother gave it to me through a really difficult time in my life as something to hold on to, so it carries a lot of meaning. It's a beautiful old locket, from a different generation. I still have it but don't wear for fear of losing it. 
NK: So, amongst what we see here, they're pretty special pieces that've been passed down too, right? 
RC: Some of these pieces belong to my mother and my grandmother. This idea of holding on to these heirlooms, is something that my mother taught us, I guess, because these were her memories that she held onto. Particularly having gone through Partition, and then, losing her mother, these are things that she holds onto dearly. So, I think this idea of heirlooms is something that we pass on – not just the actual piece, but also just the idea of appreciating these things and holding on to these memories. That it's not just about the piece, it's really about that memory of a different time and of a person that you hold dearly to you. 
My mother grew up in Gujranwala and then she moved to India when she was in her teens. I think she was about 13. So, she has vivid memories of all of this. Her mother's jewellery, her mother's shawls, she really holds onto it and she's very careful with all these things. So, I think that whole this whole notion of passing it down comes from that. It's time that we're never going to get back. 
The hairpin, my grandmother's, is very special. Also, because they just don't make jewellery like that anymore and you can tell the difference, like in the delicacy of filigree work. The blue and gold piece, bought in Ambala, that's my mother's first purchase with her first salary. The pearl earrings, my grandmother's, they must've been made in Gujranwala, pre-Partition. They're so chic. Then the red stone necklace is part of my mother's wedding jewellery, it also had some earrings and a bracelet. Then there's a book that says, 'Strictly Confidential', that's my grandfather's diary. And a picture of me, my mother, sister, and daughter, taken by Dayanita Singh, a gift from me to my sister.
NK: When was the first time you bought yourself your first piece of jewelry, independently? 
RC: The necklace I wear in these images is my first piece of real jewelry. I bought it at Tiffany's, it was the Elsa Peretti little diamond necklace. Because I grew up in the US, Tiffany's was that ideal you know, especially in New York. I think it was one of my first few paychecks. I'd just graduated from college, got my first job working as a researcher at Federal Reserve Bank of New York, and I was living in Manhattan, and I walked into Tiffany's. So that was my first piece of jewelry for myself. And you know it was expensive for me at that time, and special. I still have it and it's timeless. And now, my daughter, Maya gets to enjoy it too. 
NK: And now, today, when you buy jewellery, what is it that you look for, how do you approach jewelry buying? 
RC: Well, it's funny because it's completely changed for me, and I've noticed the change. I buy unique pieces, things that I've thought about for a while. I don't impulse shop like I used to when I was younger. I think about it. And then recently I noticed that I thought about Maya for the first time, I was like oh I wonder if Maya would like this. So now you see I'm not necessarily buying for her, but I'm keeping her in mind. I guess your interactions with jewellery changes as you age. 
And you know I don't overdo it in the jewellery department ever. So, I really do like timeless pieces. I don't like to wear big things. Of course, when the occasion requires, I will pull out those beautiful big earrings that belong to my mother and I'll wear them, but it's not something I wear all the time.  
But I admire the women in Delhi for example that can put on a pair of beautiful, you know, diamonds and rubies for lunch. I do admire that, it's just not me. I also love how they contrast the jewellery to the sari. It's something that I didn't grow up with so it's very different for me, how when you're wearing a peach sari, you  pull out the turquoise. It's just a very, very Indian thing. It's nice, I watch it - it's just something that I can't personally do myself.  
NK: You have a huge interest in art, when did that start? 
RC: I think it also stems from my mother. We grew up in like a tiny little town in New Jersey, and my mother, she did everything so elegantly. She brought her history with her, carrying a few paintings and pieces of her life in Durgapur, Jamshedpur, Calcutta, Bombay, to this tiny little town in New Jersey. Even her dinner parties were done so beautifully with whatever little we had. That's something that's been passed down. And so, everything that I've acquired, it all has meaning, there's a story behind everything. It's not about the largest artwork or the largest sculpture. It's never about that. It's really about something more meaningful. I think that's also from having grown up in New Jersey, not having access to a lot of things, I hang on to everything. We all did as a family. Everything was precious.    
When I moved back to India, 17 years ago, I left my career as an economist. I helped set up the Foundation for Indian Contemporary Art, and I was the director of FICA for seven years.
NK: You were saying that your style is very low-key and so what are the pieces that you wear on an everyday basis? 
RC: I wear very little. I wear a pair of tiny solitaires that my mother gave us when we were in our 20s, the first jewellery she bought us. Then I wear my engagement ring and my wedding band. I have a stack: My  wedding band, my engagement ring, and another set of rings that my husband, Rajan, gave me for our 10th anniversary. So it's all stacked in one finger. My engagement ring and my wedding band are both from Tiffany's. And the 10th anniversary is the classic Cartier three rings, the Trinity, representing the three of us. Ironically, my engagement ring is also just three stones. So that's kind of nice, it carries meaning.  
I think I actually struggle with jewellery because I'm not the type of person who overdoes it, I'm always looking for very simple, elegant pieces, and I think that's why I love what you do because it's exactly that. So I have the long pearl earrings, I love wearing those, and then I've got the necklace, the line with the little diamonds And then I have another pair of earrings, like a needle that goes in and dangles on both sides. 
NK: And tell us about No. 3 Clive Road.  
RC: Tea is something that my whole family loves and my mother especially, those endless cups of tea she'd have in America reminded her of home. She drank literally like 10 cups of tea a day. So, tea was a big part of my life, it was just the right thing. The name was there, right in front of me. It all just kind of came together. Like this moment in my life where I said if not now, when? 
 Clearly, I'm trying to build a brand – again that really does speak to something of a different era. I love telling these stories of a different time, but in a current way.  And I think it resonates with the jewellery that we selected for the shoot as well as the new pieces that I tend to gravitate towards.  
Styling Shivani Mathur 
Photography Kirti Virmani