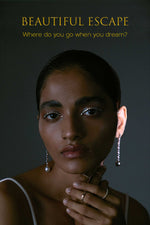 In the first lockdown, I had the complete privilege of time and mind space. A golden time. To discover new tastes, and interests, and fall through historic rabbit holes. 
Looking back, it seems, my 'discoveries' were old comforts. I watched a lot of old movies and listened to familiar music and read about people who lived in another time. A friend pointed me to *this* story about reaching for nostalgia in times of crises.
The women that chose to reappear in my mind at this time, spanned different time zones, but all had individual expression, unreserved glamour and self-assurance – Amrita Sher-Gil, Lauren Bacall, Audrey Hepburn, Lee Radziwill, Maria Callas, Diana Vreeland, Sharmila Tagore, Gayatri Devi and her mother, Indira Devi. They oozed Classic Glamour, which became my guiding style for this collection.
All along, this escapism carried Hope. That we would get out of our sweats again. And wear our Saris and silks and leathers with stockings and red lips, topped with a pair of sexy, sparkly earrings. Sit at the bar knocking back whiskey sours. Convene at trade shows and fairs, trading notes and feeding our souls. Dance all night getting our people married. Feel alive.
We are here now. And though the threat of other waves lurks always, we know that our time out in the real world is sweet, and hard-earned, and essential to our survival. For now, we celebrate.
These jewels too, are celebratory. I hope you will carry them, and they will carry you in return, in times of joy.