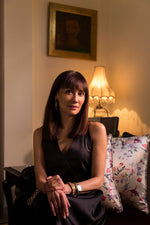 With Nonita Kalra 
This is a special but a very hard one to write. Nonita Kalra is a Thumbelina-sized fashion behemoth. She's also my ex-boss, friend, and mentor. Of the former I can say that this is possibly true for most stylists, editors and writers working in the Indian fashion industry today – they've all worked with Nonita at some point. She is the longest-serving editor at an Indian fashion magazine, spending 13 years as Editor-in-Chief at ELLE India, and more recently at Harper's Bazaar India.
But beyond these credentials, the thing about Nonita is her ability to wield great power with elegance. Power can often aggregate with age, to hulk over the lesser-than's you lead. Instead, she leads democratically (a veritable unicorn!), drawing out her often-very-young team's best abilities by simply, paying close attention to what they're saying. Likewise, Nonita respects her audience, by giving them the power of choice. "Arm your reader with knowledge", was something she'd always say in editorial meetings, an ethos I still bring to work with me.
The coolest thing about fashion is evolution, and currently, Indian fashion reflects a deep pride in our textiles and crafts. But long before this pride was a trend, Nonita put her money where her mouth was, dressing as a representative of her industry, wearing Indian labels. In an industry obsessed with newness, she's also a repeater. The same Pratap dress, the same Rahul Mishra coat, the same aquamarine earrings gifted by her boyfriend – worn over and over through the years, worn with love. And in our very transient business, I think this is the mark of someone who cuts through the hype and really loves the stories fashion tells. I feel honoured that she chooses to shop and wear The Line with this same love.
Natasha: What is your first jewellery memory?
Nonita: I remember sitting at my mom's dressing table and she had one of those beautiful dressing tables with three-way mirrors and every drawer had something exceptionally beautiful in it. There was one drawer that had these beautiful glass bangles that were so fine that you'd think they'd snap. She had these beautiful, jewelled things to put on her bun, little nets with little sparkly diamonds. And her loose pieces of jewellery – she'd come and take off her engagement ring and whatever she was wearing and dump it in a bowl on that dressing table. I remember spending my whole childhood sitting on that dressing table going through every drawer.
As old as 40-something, when I used to go back to Delhi, I would still open my mother's cupboard and I'd be like show me what's in your box, show me what pieces are lying here. She used to have a particularly beautiful topaz set, just large amber topaz, and she's the only woman I know who used to look beautiful in brown. It used to come alive like gold on her skin.
So, I remember these tiny little shiny things that caught a child's eye while sitting on her dressing table. I guess how your mother wears jewellery, the little detailing, the pieces that are left behind on the table that tell you the story of what they did the in the day or the night before, that's kind of a memory of jewellery right. How it was worn.
Natasha: Do you remember the first time you wore jewellery? 
Nonita: I've always loved my mother's diamonds and she had this Art Deco set, which I now have. It's diamonds with little pearl drops, very delicate, just something on a chain. I was always besotted with those, and so when I could wear jewellery, that was the first thing I chose to wear. There was something about it that just felt forever. It felt like it was mine.
And I think so much of our memory of jewellery in India, was also gifted to us by our mothers and grandmothers. They buy for you, then they tell you this piece belongs to you, so every time they wear it you think it's yours, and they're keeping it safe for you. You have a very vivid idea of how you will look in it based on how they've worn it their whole lives. Like my grandmother's kundan set which I inherited, it used to irritate her neck, and she put a piece of suede at the back so it'd be soft. I've never changed that, because it's soft and I like that its worn and worn against her skin, and that now I get to wear it.
Natasha: And the first time you ever bought yourself a piece of jewellery?
Nonita: Yes, again it was diamonds. It was when I was getting married for the first time and again, it was Art Deco because I just have that obsession. This friend of mine made me a diamond choker and earrings and it had sapphires, rubies and emeralds and it could be changed – you could screw the sapphires out with rubies and so on. I liked that idea of that same set being worn with many things. And I'm talking about when I was 25, that's 27 years ago. There was something about the versatility, the fact that you didn't have to buy many sets maybe. I just loved that design so much, I could see myself wearing it much later.
That was the first piece I commissioned, and I worked with her. We designed it together, she chose the stones, we talked about the stones, she had it made, I saw the whole setting, then when the stones were filled in it. I wore it when I got married, that is still my favourite piece. I guess when you finally find your own voice, that becomes really special.
Natasha: So what is your voice when it comes to jewellery, like what sort of jewellery do you look for, what boxes should it tick for you?
Nonita: I love old pieces. If I had it my way I would go to auctions and buy old pieces. I have an obsession with that, because I like the history. Pretty things are just pretty things, but I like the stories they tell. Definitely the floral, the architectural-inspired pieces as well. There's something about symmetry in jewellery that makes my heart sing.
I like a lot of simplicity and I have to say, I'm not flattering you, but I stopped buying jewellery for a long time and I restarted when you did your line because there was something about the simplicity of it, the understated-ness. I went oh hi, this is what I've been looking for.
Because there is a time you shift the kind of jewellery you wear. I wore a lot of silver, I wore big chunky pieces – that always felt like my sensibility but I started to tone it down. I was like yeah I'm done with that phase of my life. And then what I do is I give it away to people because I enjoy someone else wearing it.
I'll wear my mother's diamond earrings all the time, I wear your stuff. And I kind of like modern, simple precious jewellery now. Very simple because I guess maybe I'm paring down my life, I want simplicity in everything. I want beauty in simplicity now. 
One of my favourite pieces is my diamond engagement/ wedding ring because it's not a large diamond. It's a diamond that sits right on my hand, and I know that that's all you. The stone is so beautiful, I love the way it catches the light. And I always layer it with the ring that Bhrigu (my husband) bought me on our first anniversary the Bulgari- Zaha Hadid silver one. I like to wear that because I like my rings a little.
Natasha: What about pieces you've had passed down that are particularly special to you?
Nonita: I love my jewellery. I love every single piece. There's nothing that I'm indifferent to because like I said, they're my mother's and her mother's and grandmothers'. These are pieces that have been passed down and made in – I suspect bulk – because all my cousins and I have a similar kind of jaali work. And when my great-grandmother had all these daughters she made a bunch of jewellery and then it came down to us. So one of my favourite pieces is this emerald and white sapphire piece that is my grandmother's. Again very architectural, it's one of those pieces that makes you look a million bucks.
I love her kundan set because its really old-fashioned kundan, not flashy. It's got these long Art Deco earrings and I remember wearing them and thinking, for the first time, jewellery actually makes a woman look beautiful. Because those earrings just made me look beautiful. I felt beautiful. And that's such a magical thing about jewellery. It's very much how it makes you feel, you know. I love that moment that when a woman holds a mirror up and tries a pair of earrings and makes a decision that they suit her or they don't. It follows no logic, it's how she sees it on herself. That moment when a woman does this is so initimate. Its her idea of her beauty. It is the one time she looks at herself and sees herself as beautiful. So I love that set.
Then I have a very beautiful jaali-work ruby and pearls, I love the way Indians use pearls in jewellery to balance tone. It feels like Mughal architecture to me. And I have a really strange meenakari set, which is like a peacock that moves. It's so striking – I hated it my whole life but I'm trying to find a sari that's good enough to wear it with. So I've finally fallen in love with a piece that I hated. It's strange but it's an exceptionally beautiful piece. It's weird, your relationship changes. 
You know I love looking at my jewellery, cleaning it up, putting it back in its box and putting it in the locker because right now I've been moving so many cities that I don't know where to keep it. But there's this great intimacy with your jewellery right when you clean it and touch it and lay it down flat and stack it beautifully and you know where it is in your memory. 
Natasha: And on an everyday basis what are the few pieces that you're always wearing
Nonita: My mother's diamond earrings, always. They're tiny stars that you fixed for me, they never sat on my ears but the way they sit now I just love them. I wear my engagement ring with my Bulgari Zaha Hadid ring and that's it. When I'm feeling very fancy I put on my Chanel watch because that was gifted to me by my father and I have a thing for watches with white straps, and I have a thing for gifts that my father gave me. So, when I wear jewellery, each piece is a reminder of the people that I have loved, or love. And I almost never wear it for a statement. It's so weird now, it's become so pared down, my sensibility, and I really admire people who are more active. My relationship with jewellery has become now, more emotional.
I took my baby bangles and put them on my niece, Noor, when she turned a year old. It was very special. Mum found them and I'd saved them. I said I was going to give them to the first girl we have in the house.
Photography Kirti Virmani