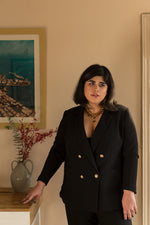 With Spardha Malik
I've never met Spardha Malik, though our respective career trajectories suggest we should have, many times over. But that's okay, because as is the case with Instagram accounts that truly stand apart, Spardha's is personal, inviting, and most importantly, that oft-used-hard-won-describer, authentic. So, I feel like I've known her a while.
Spardha currently consults for the Indian multi-brand fashion boutique and etailer, Ogaan, where she's responsible for content on their online portals. Previously a fashion blogger (one of India's first), and then a fashion writer and stylist, Spardha brings what she calls her "Blogger DNA" to her immersive Instagram page. Her page teems with personality – via both her commercial and personal styling, make-up attempts, home improvement, and travel dispatches. It is a fearless taking on of fashion – joyful and not in the least jaded, as years in the industry are wont to make one. Sassy, with a side of feeling. Case in point: Her impromptu Costume Parties in the thick of lockdown, inviting people to dress up in themes ranging from Maharanis to Modern Gods via Instagram, a creative release for many, reminding us of the joy of dressing.
NK: Let's start with your career then, take me through it please.
SM: I studied Fashion Design at NIFT, Mumbai. But upon graduating, I started to realise that my interest lay in forms of fashion communication. I worked an export house job and, on the side, started my fashion blog. This is the time when fashion blogs had just become a thing internationally, but in India it was pretty much unheard of. I was one of the people who kind of kickstarted this, so it was really fun, and I got noticed pretty quick. I started covering Street Style for Vogue India, going to events, photographing people dressed interestingly, and writing about them. I was sitting front row at fashion weeks, talking to editors, which was very cool because I was fresh out of college. That really solidified my interest in fashion reporting and styling. 
Eventually I landed my dream job at Grazia India. I loved its easy approachability as a magazine and ended up working there for five years. I wrote fashion, styled, did home and décor, beauty, and videos for the website. I wanted to move back home to Delhi, and an opening came up at Ogaan. At this point, I also wanted to make the move to digital – it felt more now. I looked into everything from the way the website looked to styling all the shoots, writing content to running digital ads and handling social media. It's been fun going from a one-person team doing everything to building a young team. Now I consult with them part-time.
NK: And then there's the Instagram.
SM: I don't take it as seriously as I possibly could or should, but it's a nice side hustle and it's fun. It just happened. The thing is I have a very strong blogger DNA. That's how I started and that's how I've always been. Even when Instagram wasn't a blogging place, I was using it like one because I've always wanted to document fashion and personal style or have conversations about fashion. I'm so in love with it, it's always been a great way for me to express myself. So, it was just organically happening and obviously I saw that this is another avenue to possibly collaborate with people and brands and connect with interesting industry people. Now I feel like maybe I should exploit it more than I am right now but yeah, I was surprised by it myself
NK: How would you describe your style?
SM: I've been trying to describe my style for 34 years now! I feel my current style is a little offbeat but also elegant. I like harmony in everything – to balance offbeat eclectic things with something really classic. And that's true for everything from the way I dress myself up to my house, or even the kind of art and music I like.  
NK: And so what kind of jewellery do you think you're attracted to?
SM: I've really changed the way I feel about jewellery. For the longest time, I only bought statement pieces. I would either wear no jewellery or full-on big earrings or a big necklace.
Now I like really special things, whether its precious materials or something that's beautifully made. I care about how it's made, or the story behind it, or emotional connections like having something passed down to me. I'd I never buy anything mass-made anymore, I want to buy from designers or buy precious metals and stones. And I still like to make a statement with jewellery but now that statement comes from how I wear and layer my pieces. I like to mix metals, gold and silver, or wear Indian jewellery with just a regular t-shirt or blazer.
NK : Do you have any first jewellery memories?
SM: It's more like (giggles) a piercing memory. As an Indian child, it's so important for our mothers to get us pierced, right! And you're so young, so you remember that scarring memory.
When I first got pierced it kept getting infected and then I took it off, and then the holes were gone. Then I got pierced again, and this time I dropped my earrings and didn't tell my mom and then my piercing closed again. And then the third time I got pierced (finally). So, it was really scarring for me because within a year I got pierced thrice and every time I'd be like, 'It's okay. I'll just wear clip-on earrings, Mom, don't do this to me!' but she would drag me right back.
NK: Any others?
SM: I just remember I used to love wearing my mom's pearls as a child because my mom loves pearls. She was a schoolteacher, and she'd go to work in a sari. She has a huge collection of saris – all textile-craft-based – that she loves. All kota and ikats and silks and kanjeevarams and she'd wear them all to work. She wasn't saving them for a special occasion.
As the art teacher, she was very chill and very creative in how she dressed – she'd wear big bindis and colourful saris, and always, pearls. My mom likes much brighter colors than I do, I'm a more toned-down version of her, so you can imagine. But the love for pearls is 100 percent copy-paste from her. 
We'd all come back from school and be changing out of our clothes, and she'd always ask me to help fold her sari. But before I helped her fold her sari I would first drape it on myself. Every day, she'd come back, take her sari off, either I'd drape it on myself or my younger sister, and then we'd take her pearls and wear them, even put on her lipstick. She'd be so amused because we'd have this fashion show every day. That's my earliest memory of playing with jewellery.
NK: Do you have any pieces that were handed down to you that you cherish a lot?
SM: I have a few pieces that have been passed down to me and I got them all when I got married. Because nobody trusts you with jewellery before that and then suddenly, you're married and you're an adult or something. I have some jewellery from my Dadi, some from my Nani. My mom gave me one of her sets from her wedding, and that turned out to be something she received from her grandmother. I think it goes up four generations and now I have it – it's the one with rubies and pearls. Then there's one that's gold with emeralds and rubies That's also really special because that's my mom's dadi's jewellery. This one must be 80 years old and the jadau is at least 100 years old. 
When I was getting married, I had zero interest in precious jewellery. I absolutely didn't care about what I was wearing so whatever new jewellery they bought me, I wore on my wedding day. And the rest, these were old pieces that my mom said I could keep it or exchange it for something more contemporary. I really wasn't bothered so I thought I'd deal with it later. I'm just so glad I didn't care at the time, so thankfully I still have them.
NK: Any special pieces that you've bought yourself to mark any occasion in life?
SM: For our 5th anniversary, my mom wanted to gift me something. This is the first time that I was interested in a jewellery purchase. It's a jadau piece with pearls because I love pearls so much. So that's the first piece of jewellery where I've actually bothered to find something that I like.
There's a Bvlgari ring I gave my husband, Ashish, his wedding band, which he rarely wears. He doesn't really wear jewellery, so I end up wearing his wedding band a lot more than he does. I just stack it with my ring or sometimes I put it on a chain.
NK: And the one piece that's most special to you?
SM: You know that pearl string, it's the most basic thing and I think that's my most favourite piece. I can literally put on a string of pearls with anything – I wear it with sweatshirt, I can wear it with a blazer, I can wear it with a sari I can wear it with anything. And that's my mom's pearl string which I've stolen from her. It's supposed to be on returnable basis, but I guess it's not going back.
Photography Kirti Virmani